The Artemis 1 Orion spacecraft is on its way back to Earth after a flyby of the Moon
For NASA's Orion spacecraft, the next stop is home.
The unmanned spacecraft flying on NASA's Artemis 1 mission passed a major milestone in its mission today (Dec. 5) when it successfully executed a 207-second engine burn while only 79 miles (128 kilometers) above the lunar surface. The maneuver put Orion on track to return home, where it will crash-land in the Pacific Ocean on December 11, if all goes according to plan.
And in a teleconference on Monday (December 5), the Orion space mission managers confirmed that so far, that's exactly how it all works. "Everything this vehicle was asked to do, it was done," said Judd Freleng, flight manager at NASA's Johnson Space Center (JSC).
Related: The Artemis 1 Orion spacecraft completes a crucial lunar flyby on its homeward journey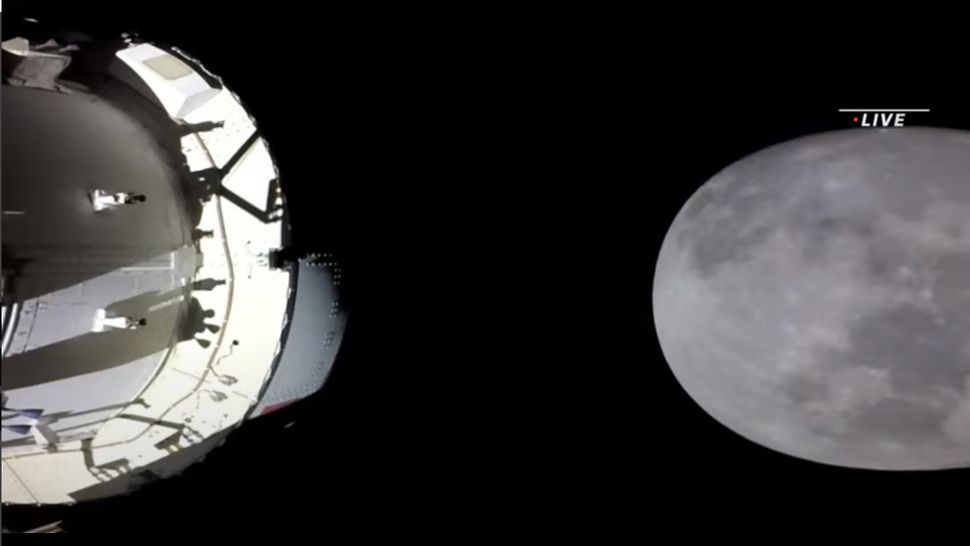 Mike Sarafin, Artemis mission manager at NASA Headquarters in Washington, spoke more poetically during the conference call about the amazing feats Orion has already done, such as breaking the spacecraft distance record. It was previously set by Apollo 13. "We've seen Earth transit beyond the Moon and extend beyond dull human spaceflight. We've seen flybys of the Moon as part of a powered return flight and we've seen Earthrise for the first time in the generation of Artemis," Sarafin told reporters. "When we finish this mission, we will have traveled more than 1.4 million miles over the 26-day mission. And we are on track to do that."
This is not to say that every aspect of Orion's first flight went smoothly. Mission managers also discussed a pair of anomalies the spacecraft has encountered in recent days, which include communication outages and Abnormality with the power system aboard Orion.
Mission managers described during tonight's conference call how a site-wide outage at the Deep Space Network site in Goldstone, California, caused a four-and-a-half-hour outage in communication between ground controllers and Orion. Fortunately, the outage was caused by a hardware problem at the ground station and not by any Orion hardware, giving teams a chance to quickly reconnect.
In addition, Orion's on-board power conditioning distribution unit failed Sunday (Dec. 4), cutting power to four devices responsible for the vehicle's propulsion and heating subsystems. Power was quickly restored, however, by NASA wrote in a statement (Opens in a new tab) This power to Orion's critical navigation, navigation, or communications systems has never been cut short.
"We talked through that day, as a mission management team, and the spacecraft is fine. There's a lot of redundancy in the vehicle," Sarafin said today of the force anomaly. "And that combined with just-in-time action by our operations teams didn't really lead to any impact on the mission and no concern there."
until the Voice-activated digital assistant from Callisto Onboard Orion is doing well, according to Debbie Kurth, deputy director of the Orion program at JSC. "First of all, in the performances so far, he's been really great," Kurth said of Kalisto. "I've seen many of the sessions — very interactive, very engaging, in terms of being able to talk to the spacecraft, turn the lights on and off, write notes or play music, ask questions. It's a really, really good opportunity to get involved and I think it has some potential for how that can be put to good use." Larger ".
There are still some tests to be done while the Orion detachment flight is still under way, but so far, the mission is running so smoothly that mission managers are now looking forward to the next "pre-planned decision gate" that will happen on Thursday (December 8) when a location is determined. Landing off the coast of California for the Orion landing on December 11.
A complex combination of factors including wind speed, wave height, and wave period (the time between waves) will be taken into account to determine a place in the Pacific Ocean to land on Orion. NASA and US Navy teams are already coordinating ahead of the recovery operation that will see Orion fished from the sea and brought back to Earth for analysis.
Follow Brett on Twitter @tweet (Opens in a new tab). Follow us on Twitter @tweet (Opens in a new tab) or on Facebook (Opens in a new tab).

#Artemis #Orion #spacecraft #Earth #flyby #Moon